4 Way VideoTardis
The VideoTardis is essentially two products in one, a Digital Video Recorder(DVR) and a Remote Video Server.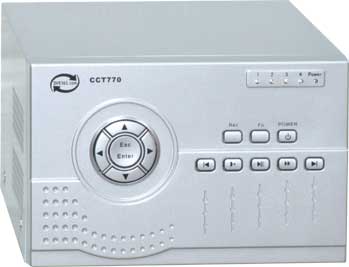 The VideoTardis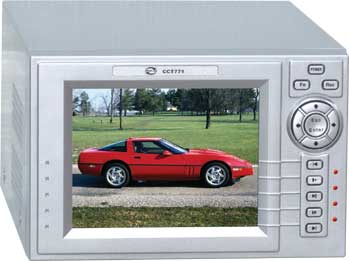 The VideoTardis with LCD screen
You can "log-on" to the VideoTardis from a computer via a local connection or from the Internet to see live or recorded images. The VideoTardis can also act as a DVR for up to 4 CCTV cameras and can simultaneously record images from all of them on to a hard drive.
If you require the instruction or client software you can get then at the DVR365.com web site.
Features

Accepts up to 4 cameras, colour or B&W,
Built-in remote monitoring,
FREE Client software supplied,
Triplex (record,play & monitor at the same time!),
Network connector,
Compact size - 13 x 20 x 28 cm,
USB Back-up Connector,
Up to 1 x 750gb Hard Disk capacity,
Noise Reduction System,
Audio recording on 1 channel,
MPEG4 compression technology,
Easy Internet monitoring,
Stand-alone unit,
Password protection prevents unauthorised access.